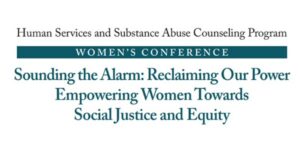 The Human Services and Substance Abuse Counseling Program at Oakton is hosting the Women's Conference on Sounding the Alarm: Reclaiming Our Power Empowering Women Towards Social Justice and Equity. The virtual conference is free and open to all.
The Women's Conference elevates professionals in the field of women's addiction and mental health. The conference highlights the importance of women's services, evidence-based practices, gender-responsive approaches, trauma-informed care, and advocacy in the field of women's addiction and mental health.
The keynote speaker, Dr. Dawn Tyus is the director and principal investigator (PI) of the African American Behavioral Health Center of Excellence and the Southeast Addiction Technology Transfer Center (SATTC) housed at Morehouse School of Medicine (MSM). Dr. Tyus has been affiliated with Morehouse School of Medicine for 14 years where she is also an adjunct associate professor in the Department of Psychiatry. Dr. Tyus has consistently taken a visionary approach to her leadership and management duties. Among the innovative programs she has spearheaded there are the Center's "Minority to Priority" initiative, focusing on the strengths and needs of African Americans; and the "Let's have the Conversation: One Voice: One Mission" faith initiative aimed at bridging secular and spiritual efforts to address substance use disorders.
---
ONCE YOU COMPLETE REGISTRATION FOR THE SESSION(S) YOU WISH TO ATTEND, YOU WILL RECEIVE A CONFIRMATION EMAIL. YOU MUST COMPLETE ADDITIONAL REGISTRATION STEPS TO GAIN ACCCESS TO THE SESSIONS.
CEU's Available
Key Words: Trauma, Addiction, Training