Did you know most misused prescription drugs were obtained from family and friends- often right from the home medicine cabinet?
According to the 2019 National Survey on Drug Use and Health:
9.7 million people misused prescription pain relievers
4.9 million people misused prescription stimulants
5.9 million people misused prescription tranquilizers or sedatives
The National Prescription Drug Take Back Day addresses this crucial public health issue by providing Americans, nationwide, with the opportunity to dispose of any unwanted, unused, or expired prescription medications, they may have in their homes. Not only is the misuse of prescription medications a public health issue, but a public safety issue as well. Unused or expired prescription medications can lead to accidental poisoning, overdose, and abuse. When thrown in the trash, unused prescriptions can be retrieved and abused or illegally sold. When these items are flushed, they contaminate the water supply. Proper disposal of unused prescriptions saves lives and protects the environment.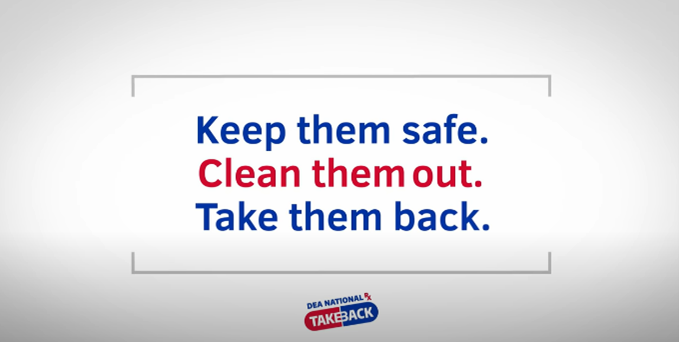 Help prevent substance use disorder and overdose deaths in your community by not only checking your medicine cabinets but by sharing this information with friends and loved ones. Check out https://takebackday.dea.gov/ to find resources like drop-off sites, results from previous Take Back Days, a Drug Database, and more.