Are you Really Winning?: Public Art Competition for Problem Gambling Awareness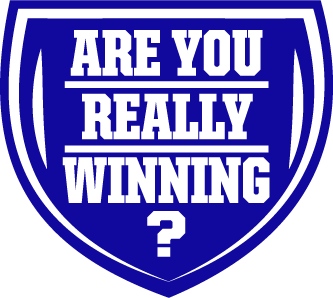 Visit Organization Website
Contact Email: [email protected]
Entry deadline closed on: 4/19/23
---
Are you Really Winning?: Campaign and Public Art Competition for Problem Gambling Awareness
To bring attention to a statewide educational campaign addressing problem gambling, Illinois-based artists ages 21 and over were called to shine a light on the journey from darkness to hope for individuals challenged with gambling addiction. Problem gambling can affect anyone; about 400,000 people in the State of Illinois, from teens to adults, struggle with gambling with another one million people at risk. Admitting a gambling problem is the first step toward recovery and education about the signs of addiction is crucial to get help.
Co-presented by Way Back Inn and a5 Branding + Digital in partnership with the Illinois Department of Human Services, Are you Really Winning? is a public service campaign that aims to help people with gambling issues and provides ways to prevent losing it all to gambling. The call-to-action drives people to areyoureallywinning.com and to the Helpline at 1.800.GAMBLER. The integrated campaign includes digital, advertising TV, radio, social media, and sponsor partners that include the Chicago Fire and Chicago Wolves sports teams and colleges across Illinois.
In 2023, Are you Really Winning? invited artists to participate in this statewide campaign through the submission of artwork to bring a powerful voice to problem gambling issues and motivate those afflicted with gambling addiction to seek help. Entries were reviewed by a jury panel and three selected works were publicly unveiled (via digital and/or print representation) at the Illinois Council on Problem Gambling Conference in May and featured on the Are you Really Winning? website and social media channels.
The goal of the Are You Really Winning? campaign is to help those who struggle with gambling issues by spreading awareness on problem gambling and providing people with resources. The art competition came to life as an extension of the campaign with the goal of shedding more light on problem gambling in a unique way. Art is a powerful voice and we used its voice to shed light on the journey of addiction.
Third Place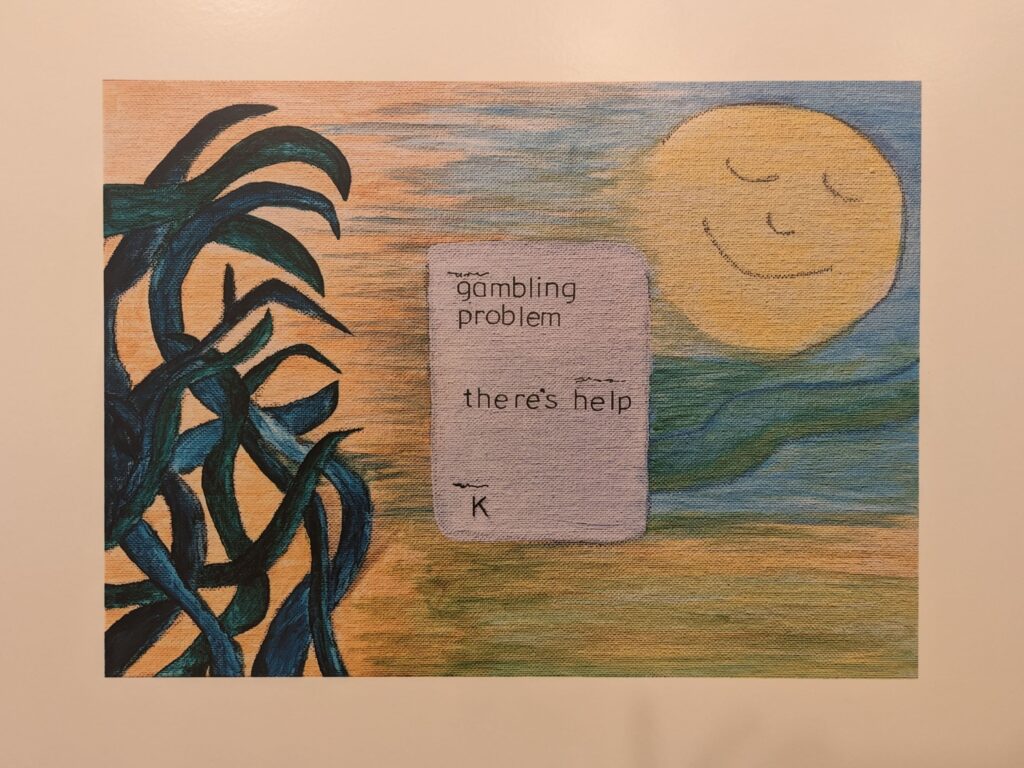 Artist: Susan Strange – Northbrook
Problem Gambling: Text for Help and Hope.
Her piece brings attention to the importance of hope and seeking help in overcoming problem gambling. Susan's intention is to portray the struggles and conflicts associated with problem gambling without any stigmatization or assumptions about the individuals involved. As a Licensed Clinical Social Worker and Certified Supervisor Alcohol and other Drug Counselor, Susan aims to inspire viewers to perceive problem gambling as a challenge rather than a stigma, encouraging them to have hope and seek assistance.
Second Place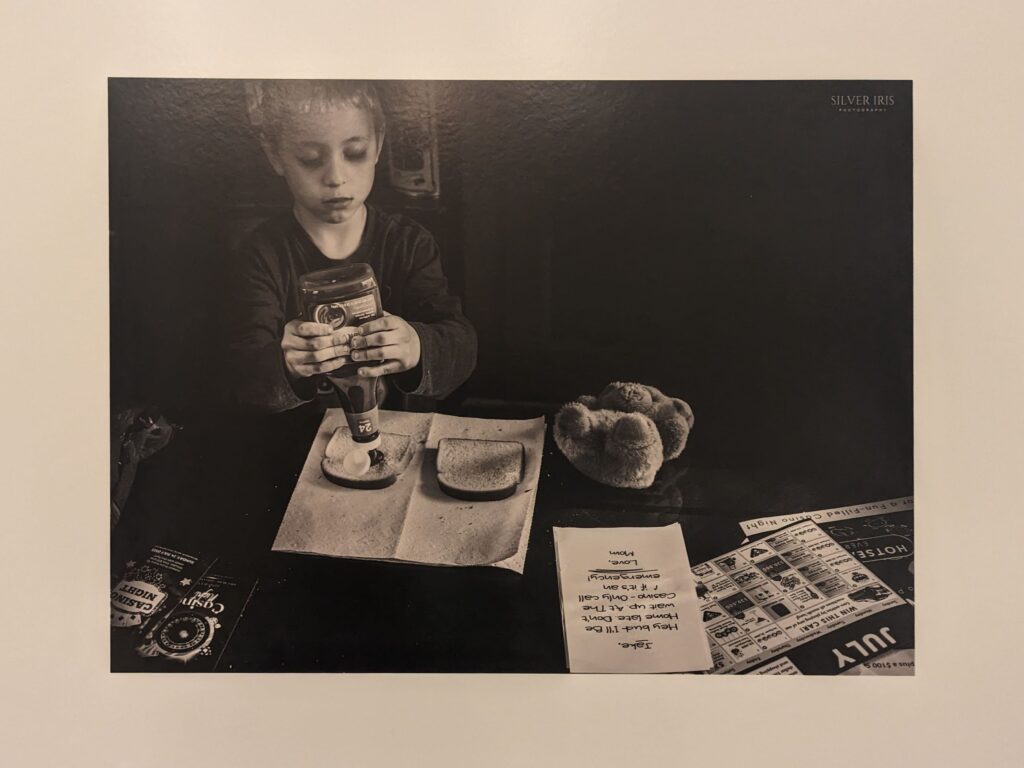 Artist: Marissa Bogdansky – Carbondale
"Dinner," delivers a poignant message about the destructive impact of parents' gambling on families. This thought-provoking photograph is part of a series that serves as a powerful reminder of the challenges faced by those affected. Marissa's artwork calls upon us to join forces in the battle against gambling and to maintain a deep sense of empathy for the vulnerable individuals affected by its consequences. We extend our heartfelt gratitude to Marissa for her thought-provoking image and offer our congratulations on this well-deserved recognition.
First Place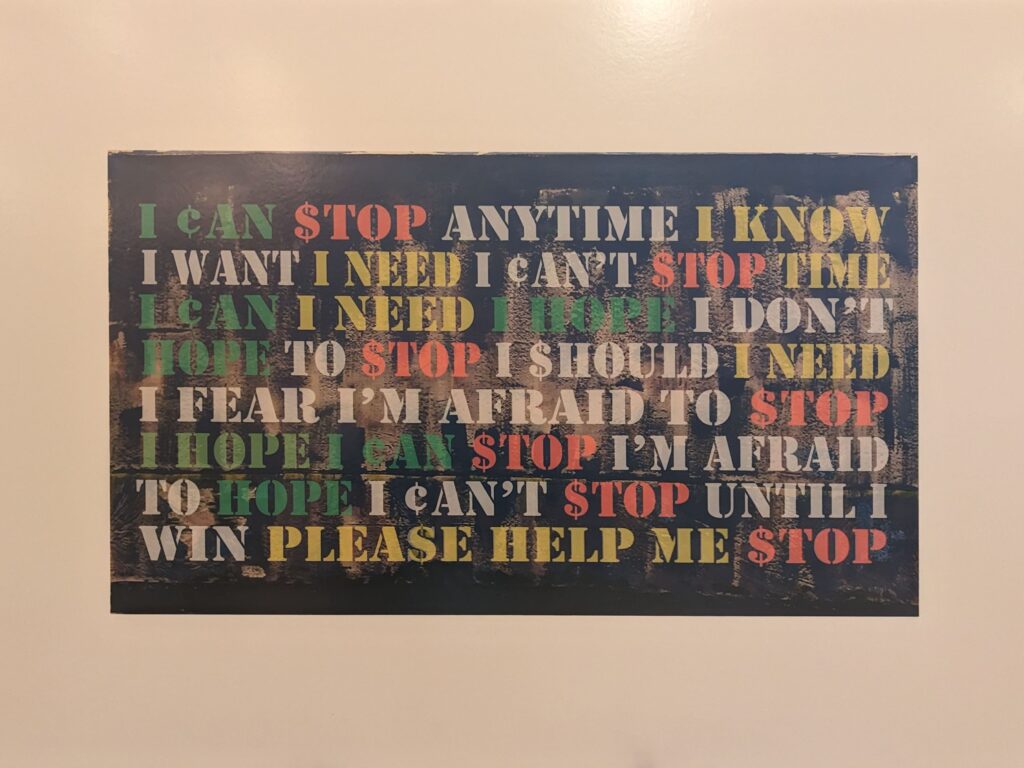 Artist: Sara Peak Convery – Chicago
Her captivating artwork combines digital and hybrid elements, blending letters in a digital format with a backdrop created using house paint on a board.
Sara's use of addiction's language resonates deeply, skillfully portraying its complexities through bravado, bargaining, fear, denial, and desperation. Although not personally experiencing an overt addiction, Sara believes these words and emotions are familiar to most individuals.
Chuck Benya is the Executive Director of Artspace 304, a multi-disciplinary creative hub and cultural space dedicated to providing access to the arts and supporting artists in Southern Illinois. Prior to joining Artspace 304, Benya worked for arts organizations across the United States, including the Metropolitan Museum of Arts, The Kings Arts Complex, and the Illinois Alliance for Arts Education. He has additionally served on the National Endowment for the Arts, Ohio Arts Council, Greater Columbus Arts Council, and Illinois Arts Council Agency grants panels, as well as numerous organizations and committees to strengthen arts funding, education, and policy. Benya's extensive nonprofit experience includes over 20 years of human services leadership within Heartland Alliance, CARE USA, and Vital Bridges. His consulting service to former First Lady Rosalynn Carter and her Institute for Caregiving led to her blueprint for a national caregiving network. Other former clients include the ISS Center for Advancement of Science and Space, Eat Right, SOLV, and Michigan Community Service Commission.
Kathy Osler, ATR, LCPC, has been working as an art therapist in the mental health sector for more than 30 years, consistently developing new ways to utilize creative expression in her mental health practice. Osler provides art therapy, group art therapy, and opportunities for artists to connect with the greater art community in Chicago. In addition to her art therapy practice, Osler has curated exhibits and art installations for artists challenged with mental health issues to empower them and find strength in their recovery. In 2022, Osler was invited to serve as a panelist for Artist First Conversations, a symposium series at Chicago's Cultural Center that addressed inclusivity for artists with disabilities.
Pablo Serrano is an artist and prolific muralist whose work is transforming public spaces across Chicago. Born in Chicago to Mexican immigrants, Serrano's work is informed by democratic educational practices along with strong beliefs of social justice and equality for underserved communities. As an artist, educator, and music event organizer, he believes that every creative means possible should be used to find and make meaning in this complicated world. Serrano studied Graphic Design at the University of Illinois at Urbana Champaign and received his Master of Arts in Teaching from The School of the Art Institute of Chicago. He has worked as a high school art teacher for Chicago Public Schools and is the founder of The People's Stage Karaoke and co-founder of Kombi Chicago, which provides meaningful musical experiences to the Latino community of Chicago.