Alcohol Awareness Month is a national public health campaign, spearheaded by the National Council on Alcoholism and Drug Dependence (NCADD), with the goals of increasing awareness and understanding the causes and treatment of alcoholism.
Alcohol Awareness Month assists organizations, treatment centers, and providers with their efforts to educate audiences on the causes, signs, and effects of alcoholism, as well as how to find support or talk to a loved one about a drinking problem.
A major part of Alcohol Awareness Month is to point out the stigma that surrounds alcoholism and other substance use disorders. Though the campaign originally meant to target college-aged students who were susceptible to social pressure and binge-drinking, the dangers of alcohol misuse go far beyond this demographic. People aged 26 and older account for 49.3 million of the 133.1 million alcohol users in the United Sates. Excessive alcohol use and binge drinking can increase a person's risk of stroke, liver cirrhosis, alcoholic hepatitis, cancer, and other serious health conditions.
Adults in Illinois binge drink at a median of 1.9 times monthly. The top 25% of the most active drinkers, binge 4.4 times per month.
Nearly 70.6% of individuals who die from alcohol abuse in Illinois identify as male.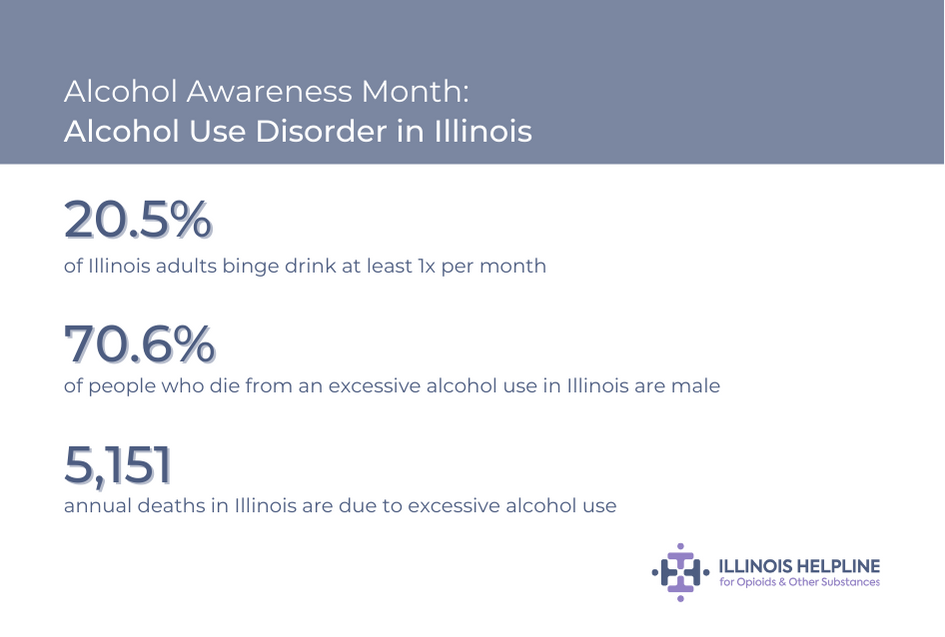 Interested in participating in Alcohol Awareness Month?
Visit the National Institute on Alcohol Abuse and Alcoholism's #RethinkingDrinking page to learn about U.S. guidelines for drinking, see signs of a problem, and get the resources you need to make a change.
Find other alcohol-related resources – such as facts, statistics, and articles – here.
Search the hashtag #AlcoholAwarenessMonth on popular social media platforms to find resources and different organizations participating.
Reach the Illinois Helpline 24 hours a day, 365 days a year by calling 833-234-6343, texting "HELP" to 833234, or chatting with a Helpline Specialist online directly at HelplineIL.org.